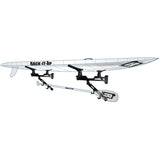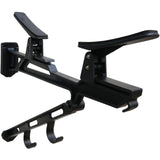 Your Rack-It-Up Race SUP Storage System Includes:
2 Race SUP Storage Racks: Robust and reliable, these racks are tailored to secure your race SUPs, keeping them safely off the ground.
2 Race SUP Storage Braces: Constructed for strength, these braces provide essential support, ensuring the weight of your race SUPs is evenly distributed.
4 Adjustable Padded Cradles: These cradles, with their adjustable design and soft padding, conform to the shape of your race SUPs, offering protection and a custom fit.
2 Universal Sleeves: Enhancing the flexibility of your storage setup, the universal sleeves allow for seamless adaptation to various race SUP sizes and styles.
Set up your professional race SUP storage with this complete system, designed for easy assembly and exceptional board care.
Fast & Flexible Shipping with Rack-It-Up!
We're dedicated to delivering your order swiftly, wherever you've got a mailbox waiting. Postal box? No worries at all—simply select 'Australia Post' when you check out, and we'll dispatch your gear within two business days. While delivery times can differ depending on the service and destination, typical mail arrives within 1 to 28 business days. We appreciate your choice to shop with Rack-It-Up, and we're here to make sure your experience is smooth from cart to doorstep!
Racks You've Checked Out: