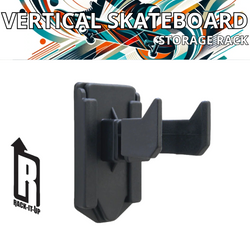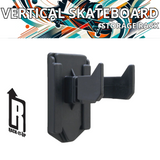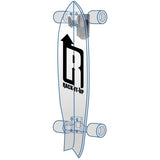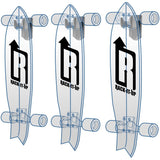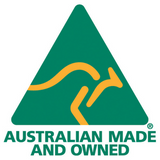 Vertical Skateboard Storage Racks
Your Rack-It-Up Vertical Skateboard Storage Kit Includes:
1 Vertical Skateboard Storage Arm: A robust arm designed to vertically display your skateboard, maximizing space while providing secure storage.
1 Universal Sleeve: This sleeve adapts the storage arm to fit any skateboard size, ensuring a perfect hold for your deck.
Assemble a sleek and personalized display for your skateboard with this minimalist and effective storage solution.
To install, you will need screws appropriate for the type of wall you are mounting it on. A good option for most situations is #8 x35mm countersunk screws.

Firstly, put a screw through the top hole in the Universal Sleeve and into a wall stud to attach the sleeve to the wall. Then use a level on top of the sleeve to adjust the Universal Sleeve and then screw in the bottom; once attached to the wall, you can slide the rack arm into the channel on the sleeve.
Fast & Flexible Shipping with Rack-It-Up!
We're dedicated to delivering your order swiftly, wherever you've got a mailbox waiting. Postal box? No worries at all—simply select 'Australia Post' when you check out, and we'll dispatch your gear within two business days. While delivery times can differ depending on the service and destination, typical mail arrives within 1 to 28 business days. We appreciate your choice to shop with Rack-It-Up, and we're here to make sure your experience is smooth from cart to doorstep!
Racks You've Checked Out: