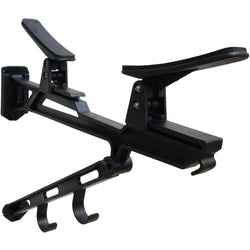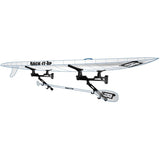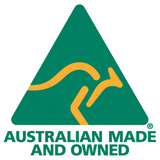 Your Rack-It-Up Wave Ski Storage System Includes:
2 Wave Ski Storage Arms: Custom-designed to hold your wave skis securely, these arms are the foundation for a reliable storage solution.
2 Wave Ski Storage Braces: These braces add an extra layer of support, ensuring the stability and safety of your stored wave skis.
4 Adjustable Padded Cradles: Tailor the fit to your wave ski's unique shape with these padded cradles, providing cushioned support that adjusts to your needs.
2 Universal Sleeves: Enhance the fit and versatility of your storage system with these sleeves, allowing for a perfect match with a variety of wave ski models.
Assemble a dedicated spot for your wave skis, keeping them in excellent condition and ready for the water.
Fast & Flexible Shipping with Rack-It-Up!
We're dedicated to delivering your order swiftly, wherever you've got a mailbox waiting. Postal box? No worries at all—simply select 'Australia Post' when you check out, and we'll dispatch your gear within two business days. While delivery times can differ depending on the service and destination, typical mail arrives within 1 to 28 business days. We appreciate your choice to shop with Rack-It-Up, and we're here to make sure your experience is smooth from cart to doorstep!
Racks You've Checked Out: